The Euro Travel Coach Team recently completed the Tour du Mont Blanc. It was a truly amazing experience. The hike was a challenge, both physically and mentally, with incredible rewards including spectacular views, fantastic camaraderie, and the feeling of accomplishment when you've achieved a goal you've been planning for months and months.
We'll be posting new blogs on the Tour du Mont Blanc, but it is worth reposting this one, originally written in September 2019, just a few months before we ever heard of coronavirus. The hike described here was the inspiration for us to complete the tour all together. It is something we talked about during lockdowns caused by the pandemic, and dreamed about before we could travel freely again.
The key to making this trip successful is great planning. Plan ahead, book your refuges early in the fall and early in the spring for a tour the following summer. Also, pack light, carry blister bandaids and get your camera ready to take amazing pictures and create memories that will stay with you the rest of your life.
We hope you enjoy this reposting of Chelsea's blog from her first time in this area.
Four days on the tour du mont blanc
My husband Sam and I live in Bristol, UK, and we typically choose our vacation destinations based on flight price and timing. When we were searching Skyscanner recently for a place to go over the August bank holiday, an inexpensive flight to Geneva popped up that left on a Friday morning and returned on a Tuesday night. We knew it was meant to be! Sam only had to use two days of vacation and we got nearly five full days of travel time. We knew we didn't want to spend the whole time in Geneva – it's a beautiful city but it can be expensive and there's not all that much we wanted to see in the city itself – so we started brainstorming options nearby. We discussed renting a car and checking out the Jura wine region, and exploring the Vanoise Glaciers (both things that I'd still really like to do), before eventually settling on doing a portion of the Tour du Mont Blanc (TMB). The TMB is a 170 kilometer hiking route that passes through Switzerland, Italy and France, encircling the Mont Blanc massif. The full tour typically takes around 7-10 days to complete. Since we were limited on time (we hiked for three and a half days, and spent our final day in Geneva) we were only able to complete about 1/3 of the route (plus a little detour), from Les Houches to Courmeyeur. It was an incredible way to spend our long weekend!
Practicalities
We used Cicerone's The Tour of Mont Blanc Complete Two-Way Trekking Guide by Kev Reynolds both in advance of our trip to help plan our schedule and during our time on the trail. It was absolutely invaluable and I would recommend it to anyone interested in the TMB. We stayed at mountain "refuges" while we were on the trail, which are lodges dotted around the TMB which provide beds (most have dorms and private rooms available), water, and meals. We packed everything we needed into two hiking backpacks and carried them with us on the trail. There are companies that will provide luggage transfers, but it does limit where you can stay, as the accommodations must be accessible by car. If possible, I would highly recommend carrying your own pack – pack light and do sink laundry if necessary. You could always store larger luggage in Geneva if you're incorporating the TMB into a longer European trip.
Day 1
Our flight was supposed to take off from Bristol at 7:30am so that we could be in Les Houches by early afternoon. Unfortunately, our flight was delayed four hours and we didn't get to Geneva until around 3:00. We had arranged for a shared transfer with AlpyBus and, luckily, they had another bus leaving shortly after we arrived. The bus dropped us off outside of the grocery store in Les Houches as I requested, and, despite the fact that we were several hours behind schedule, we decided to move forward with our day one hike as planned. I only planned a two hour hike for the first day in case we had any travel issues…but I didn't quite account for a delay this severe. We kicked it into high gear and walked pretty much straight uphill for an hour and a half…then straight downhill for the final 15 minutes. There were some lovely views over the Chamonix valley along the way, but we didn't take too much time to admire them as we were in quite a rush to get to our accommodations.
We ended up arriving at 7:15 and were promptly greeted by a small but mighty French woman who tut-tutted us for arriving late and told us several times that dinner is at 7:00. We didn't have enough language in common to properly explain the situation and I doubt she would have cared, but, luckily she did serve us dinner, despite our tardiness. Our first course was what I can only describe as a "root vegetable tartare" of sorts – finely chopped carrots and beets tossed in a vinaigrette and served with hard boiled egg. Next came a massive portion of braised beef (somewhat of a theme among the refuges we stayed in) and rice. It was perfect after a long day of travel and our very rushed uphill hike. We finished the meal with a lovely chocolate mousse then headed outside to enjoy a beer and the spectacular views. Once it was dark (and cold – it's amazing how quickly the temperature drops once the sun goes down) we headed up to our room. We booked beds in the dorm, but were given a private room with a bunk bed. The bathroom was just down the hall from our room and we were each given one token for the shower which gave us three minutes of warm water – it turned out to be plenty of time to get clean! The beds were comfortable and we were asleep in no time.
Day 2
We had a simple breakfast of bread and yogurt at our refuge and then set out for day two. We had originally planned to take a detour from the TMB to go over the Col du Tricot, but we heard from several people at the refuge the night before that it was quite challenging and added several hours to the day. Because we were staying slightly off of the TMB, we were already looking at some additional hiking time and elevation gain, so we decided to take the easier route, following the TMB to the town of Les Contamines before heading to our refuge. We ended up being very pleased with our choice. The path from Du Fioux to Les Contamines was undulating and pleasant, passing through small villages and pretty forested areas. We arrived in Les Contamines after about 3 hours of fairly leisurely walking, and enjoyed a lovely lunch of green salad, beef carpaccio with potato fritters, and ice cream at La Table d'Hotes Savoie. We stocked up on snacks at the local Carrefour (mini saucisson sec packaged in chip bags!) before heading to Refuge de Tré-la-Tête. Though you can follow the TMB to Nant Borrant and then walk up to Tre-La-Tete from there, we chose to take the slightly shorter and more pleasant path from the Le Cugnon car park (we found these directions to be very helpful). The trail was very beautiful and peaceful – we only saw a handful of people during the two hour hike to the refuge. A majority of the hike was through the trees, which made the views all the more breathtaking when we finally made it above the tree line. I was thrilled to discover wild blueberries during the final portion of our hike and had we not been antsy to get to our destination, I would have stopped to pick more than just a few handfuls for snacking. With about 20 minutes left in our hike, we finally got a glimpse of our refuge – after nearly 800m of elevation gain, it was like a mirage in the dessert. With the promise of cold beer spurring us onward, we made quick work of the last portion of the trail and arrived around 4:00 (we were eager not to be late to dinner this time).
We were greeted by some friendly chickens, many weary mountaineers, and a friendly woman who served us two large cold lagers (not usually our favorite style of beer, but after a long day of walking, it tasted pretty damn amazing). Refuge de Tré-la-Tête is named after a nearby glacier, and we discussed leaving our bags at the refuge and walking the 30 minutes to go check it out, but we couldn't pull ourselves from the idyllic, sun soaked picnic tables with views of the Alps. I guess we'll have to come back! We did a bit of sink laundry and enjoyed hot showers (this place didn't use tokens; instead you pulled a rope and got about 30 seconds of hot water…but you could pull the rope as many times as you wanted!). We were served dinner outside and were seated with a lovely English couple who was going to tackle some pretty serious glacier hiking the following day (think crampons, ice picks, ropes, lots of skill and knowledge – way over our heads!). We enjoyed a lovely vegetable soup, boeuf bourguignon (aka, braised beef) with rice, some really delicious Beaufort cheese, and chocolate cake. The hearty meal was just what we needed at the end of the day. We had a good night's sleep in our comfortable and cozy private room with a double bed.
Day 3
We were a little nervous about Day 3 as it we had read that it was the longest and most challenging hike, passing through three cols (saddles between peaks). We had an early breakfast, paid our bill, and picked up a packed lunch from our host (an extra €8 each). We then filled our water bottles, and headed down a steep, rocky trail toward refuge Nant Borrant – the first waypoint if had we been coming from Les Contamines and following the TMB. After about an hour and a half of hiking (all steep downhill), the path leveled out slightly and we crossed a bridge over a river (with pretty waterfalls to our left!) and saw signs indicating that Nant Borrant was 15 minutes away. After consulting with our map, we decided to follow the signs toward Refuge La Balme as Nant Borrant was slightly out of the way for us since we were coming from Tré-la-Tête. We cut across a pretty valley with an idyllic stream where several people had set up camp for the evening. Then we met up with a dirt road leading to refuge La Balme. We filled our water bottles again, took a bathroom break, and had a snack to get ourselves ready for our trek up to the Col du Bonhomme where we planned to eat our lunch. There were several other people there doing the same thing – this was the first part of the TMB that felt busy. The first portion of the trail up to the Col was in direct sunlight and was quite steep, narrow, and rugged. As I mentioned, there were several other groups around which made things quite frustrating at times – for the first thirty minutes, we were either holding someone up or being held up – but after the first 30-45 minutes, we hit a level spot where the path widened and split and the crowd dispersed slightly. By the time we hit the next narrow section, there was a comfortable gap between me and Sam and the hikers behind and in front of us. We followed a stream up to a little snowy patch, which we crossed in order to make our final ascent to the Col. The gravely path was very steep, and we had to stop for a lot of breaks…but we eventually made it to the top and were rewarded with incredible views over two valleys, and a nice grassy area where we could enjoy our lunch (cured ham sandwich, an apple, a boiled egg, and a kinder chocolate bar). We weren't done climbing yet though! The path to the Col de la Croix du Bonhomme was a little less steep, but uphill none the less, crossing over lots of exposed rock and finishing with an easy scramble to the top. There was a refuge just below the Col where we filled our water bottles and used the (composting) toilet. From there it's an easy downhill walk to the town of Les Chapieux, but we had opted to take an alternative route that cuts across to Refuge des Mottets via the Col des Fours, which meant we had one more uphill climb ahead of us. Luckily, it was the easiest climb of the day (not that it was easy, just easier). The trail and surrounding area was mostly loose shale, but the incline wasn't too bad. The Col offered beautiful views of a lush valley…but before we got to the grassy portion, we had to tackle a steep shale descent. This was my least favorite part of our experience on the TMB – the trail was very gravely and there was nothing to grab onto. It just seemed like if I slipped, I wouldn't stop sliding for a very long time. I think it would have been a lot easier with hiking poles. Luckily, we eventually made it to a grassy/rocky part of the trail that bordered a beautiful mountain stream, which was a big improvement, and that eventually lead to a gently sloping dirt road which took us almost all the way to our refuge.
Refuge des Mottets is a family-run converted dairy farm. It's a newer refuge comprised of several buildings – some old and some new. We had a very comfortable and clean private room in a newer building with a hot shower and bathroom right down the hall. We made some friends on the trail so we had a round of beers and played cards at a picnic table out front while we waited for dinner to be served. The views weren't quite as spectacular as the night before (valley views vs. mountain views), but it was a very pleasant setting none the less. Our meal was served in the dining room, which was decorated with old dairy equipment. We were served a really tasty bean and vegetable soup and – you guessed it – boeuf bourguignon! Despite the fact that we had basically the same meal three nights in a row, it was really delicious and we were very grateful for a hot and hearty meal at the end of the day. After dinner a woman came out and entertained everyone with a few songs on a barrel organ. Everyone sang along to John Lennon's Imagine – it was a perfect way to end a long day.
Day 4
Refuge des Mottets to Courmeyer via Col Checrouit
After breakfast at the refuge (cereal and bread – they really don't do protein for breakfast!), we set out for the day! Our first climb was up a wide gravel trail to Col de la Seigne, where we very unceremoniously crossed into Italy. The Col offered (unsurprisingly at this point) glorious scenery on either side, including great views of Mont Blanc itself. After snapping some photos, we headed down into the Vallon de la Lée Blanche past La Casermetta (a former customs house that is now a museum and information center) and Refuge Elisabetta. We kept thinking we had made it to the bottom of the Valley, but the trail just kept going down down down! Eventually we did make it to the bottom though and enjoyed a couple miles of gently undulating trail – a rarity on the TMB! This didn't last long, however, because we decided to take the variant route over the Col Checrouit. The steep, uphill trail seemed to go on forever, but we passed various ruins of mountain huts and our rest breaks were accompanied by spectacular views of the Glacier de Miage. When we eventually made it to the Mont Favre spur at an elevation of 7972, we were rewarded with stunning views of the Mont Blanc range – plus we felt that we really earned out packed lunch (bread, cheese, dried sausage, a tomato, apple sauce, pâté, and a twix bar). From there, it was mostly downhill to Courmeyeur. From Mont Favre to Col Checrouit was really lovely. The trail wasn't too steep or narrow and we passed various small lakes and streams along the way. We stopped at Rifugio La Maison Vielle (located on the Col Checrout) for water and a bathroom break. At that point it seemed like we were almost at our final destination (Courmeyeur), but in reality the most treacherous part of the trail still lay ahead of us. The path down to town was steep, gravely, dusty and unrelenting. After about an hour and a half of walking, the path spit us out on to a gently sloping paved road. By that point our legs were literally shaking – Sam's knees are still recovering. Again, we could have really benefitted from hiking poles during this portion of the trail! Regardless, we eventually made it to Courmeyer, which is an adorable cobblestoned ski village and a popular starting point and rest day on the TMB.
We stayed slightly out of town at Locanda la Brevna, a small family run hotel with a good onsite restaurant. Our room was comfortable and cute, but most importantly it had a nice hot shower with good water pressure and no time limits or pulleys/buttons that kept having to be pulled/pressed! There were a few cute bars and restaurants near the hotel, but we were so exhausted and sore that we had no desire to leave, so once we were clean, we went downstairs for aperitivo (they had free snacks in the lobby) and stayed for dinner. The food was quite good – especially the pasta with venison ragu. As much as we enjoyed our dinners at the refuges, it was nice to have something other than boeuf bourguignon. We shared a nice Nebbiolo from Piedmont and toasted our time on the TMB, promising each other that we'd return soon to finish the route!
Would you like to plan a hiking vacation in the Alps? Or are you hoping to travel any place in Europe and find special things to see and do? We can help with that! Remember, we are always available to you and your friends and family for custom trip planning to Europe. We are experts in creating custom travel itineraries and leading small group trips to European destinations. You can always send Betsy an email to discuss the possibilities. We would love to help you make your travel dreams to Europe come true!
Chelsea is one third of the Euro Travel Coach team (and is the daughter of the other two thirds of the team, Greg and Betsy). She has a passion for food and wine and has a background in hospitality. She attended Cornell University's School of Hotel Administration and interned with two of New York City's best restaurant groups while she was in school. After graduation she worked at the number one wine auction house in the United States, Chicago's Hart Davis Hart Wine Co. There, she organized various wine centric events for HDH's most valuable clients. She and her husband moved to Copenhagen, Denmark in 2016 and then to Bristol, UK in 2018 and have traveled extensively during their time living in Europe. Her expertise in food and wine and her experience living abroad helps her to find amazing accommodations, delicious restaurants, and unique experiences for Euro Travel Coach clients.
Love this post? Pin it so you can come back to it later!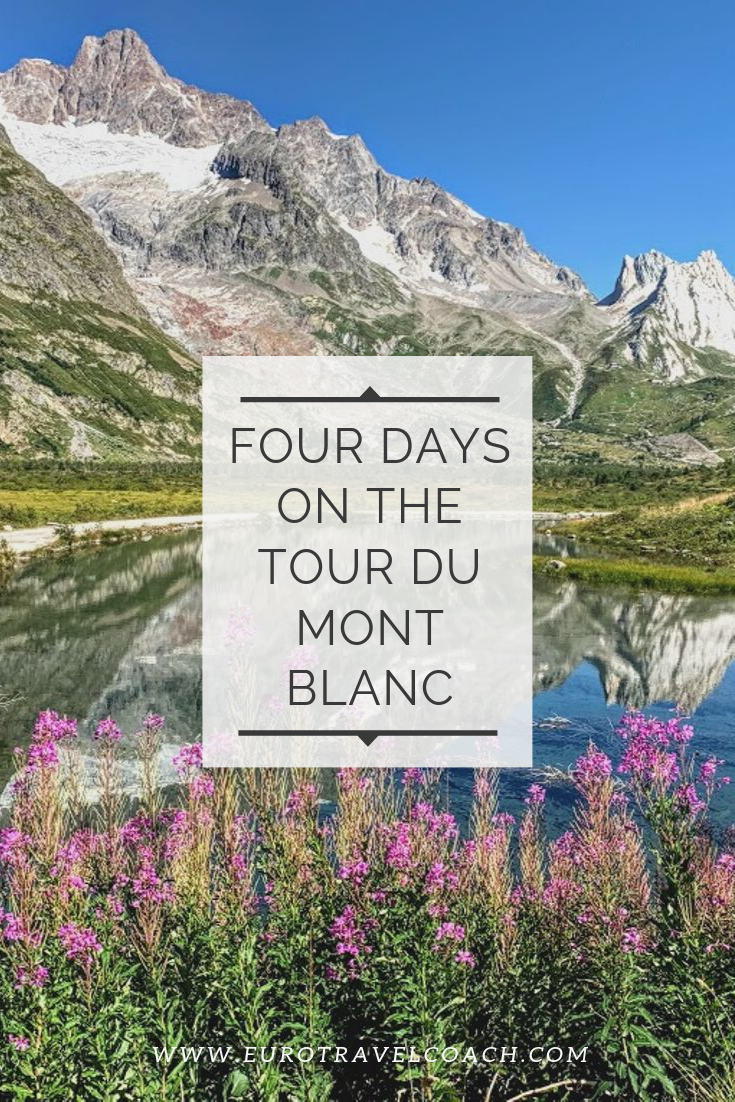 For the full story click here!