travel plans to ireland
We absolutely love Ireland and it is such a joy to help people travel there. I hope that Ireland is on your list of places you want to visit in Europe. You will love it! If you've been there before, you know what I mean, and maybe it's time to go back!
Where should you go and where should you stay while you are traveling in Ireland? We have some great ideas for you. Or, let us plan it all for you! Contact us to put together your custom vacation. We'd love to design a unique itinerary for you and your travel companions! We can even focus your tour on golf, traditional music or Irish whisky & Guinness if you want – when you hire us, it's all up to you!
Ireland Road Trip
So, you are headed out on an Ireland Road trip! You can certainly travel through Ireland on a train or a bus, but the best way to see it is by car. You want to be on your own schedule – you really do, and touring Ireland by car allows you to do that. Part of experiencing Ireland is to slow down, soak in the view, meet the people and listen to the music every chance you get. It's easiest to do that if you are able to come and go – but mostly stay – as you please.
Linger in a pub and carry on a conversation with someone who lives nearby. You are very likely in their neighborhood pub, and I bet it won't be hard to get them to tell you all about where they live. One of the wonderful things about traveling in Ireland is they speak English – and sometimes you can even understand what they say! For sure, strangers will become friends, and you will remember your encounters and conversations for long after you return home.
Where should you go on a 7 Day Ireland itinerary?
This is not a simple question to answer, unless the answer is "it depends." There are so many different ways to experience 7 days in Ireland. Each traveler is different and each group is unique, so they will get the most out of differing itineraries.
You will need to ask yourself some additional questions before you know where you should go. No two itineraries are the same whether you plan it for yourself or a travel advisor plans it for you. All the trips we create are unique and customized to our clients' very specific dreams and desires. We ask lots of questions so we can discern what their perfect trip will be: Have you been to Ireland before? Are you traveling with kids? Teenagers? Parents? Do you enjoy traditional Irish music? Do you want to go Coasteering? (yes, look it up — it is awesome!) Are you comfortable driving a car on the left hand side of the road? Would you like a driver/guide to help you explore? Are you an outdoors person? Do you like to hike? Bike? Do you have a specific interest in history? Do you want to explore your family connections in Ireland? The list goes on, but you can see that where you should go involves a lot of thought and discussion before coming up with the best plan. But let's start with a truly great 7 day Western Ireland Travel Itinerary.
Choose between Dingle and the Ring of Kerry
I am imagining that you are already on the west coast of Ireland. On this itinerary, with only 7 days, you will need to choose between the Ring of Kerry and the Dingle Peninsula. The Ring of Kerry is spectacular. Know that it is bigger and busier than the Dingle Peninsula.
I like the idea of staying on Dingle, in or near Dingle. You may want to explore this quintessentially Irish town for part of a day. Take your time. Relax. Go to Murphy's Ice Cream . Dive into the flavors and savor every cool refreshing lick. This ice cream is made with fresh farm milk from Irish cows, lots of local cream and free range eggs. You must visit a pub, or several. Have that conversation with a local and see what they love about living there.
Then head out on the Slea Head Drive. This article by Rick Steves is a great self guided tour and discusses all the major points of interest along the way. Be sure to visit Dunbeg Fort at 12.5 km, the beehive huts at 13.4 km, as well as all the view points along the way. Slow down and stop when you see something interesting, which will be often. You will be blown away by the beauty of the Wild Irish Coast.
If you have enough time, you could hike Mount Brandon, Ireland's second highest mountain. The Mount Brandon from Baille Breac hiking route in Ballybrack takes 3-4 hours up and down and is a moderate hike. This is the most direct route up the mountain. If you would like a guide to take you, Celtic Nature Walking Tours does a fantastic job. I love hiking on my own, but going with a guide gives you a chance to learn more about the nature surrounding you and the people who have survived on this rugged landscape. It also gives you a chance to meet another local, and (as mentioned) I think meeting the people is really one of the best parts of traveling in Ireland.
I also recommend spending some time in Killarney National Park. Head over to Killarney early one day and wander this quaint, wonderful town. If you like biking, then you can check out Killarney Bike Rental to rent some bikes. Directly across from where you can pick up your bikes, you can take the cycle path to the national park. Biking here is safer than on the roads on Dingle, and it is absolutely beautiful.
Another great plan is to bike the Gap of Dunloe. You can take a 2-hour boat trip through the Lakes of Killarney. You then cycle back through the Gap of Dunloe. Killarney Bike Rental will give you details if you ask. Take a picnic lunch with you (make arrangements in Dingle before you leave or pick up supplies in Killarney).
Which Direction should I go on the Dingle Peninsula?
On Dingle, tour busses drive clockwise. For the Slea Head portion of the drive, you will also want to go clockwise on Dingle. That way, you are not trying to get past them on an extremely narrow road coming from the other direction. If you are going clockwise, you are also on the coast side of the road so you'll have better views.
Which Direction should I go on the Ring of Kerry?
In making your plans, know that tour busses drive counterclockwise around the Ring of Kerry. Therefore, you will probably want to drive clockwise any time you are on "the ring" if you want to avoid getting stuck behind a bus. Don't try to travel the Ring of Kerry too fast. It is meant to be enjoyed. Again, stop when something is interesting (you'll be stopping a lot!).
Spend 2-3 nights in Dingle, exploring this area. Really settle in and enjoy it. Take your time. Soak it in. Talk to the locals. You may not want to leave. However, you only have 7 days, so it's time to move on. Plan to go north.
Head north to Doolin
Doolin is a tiny little place, but I love it and I think you will too. Lots of other people love it too, though, so it can get busy at times. Staying overnight gives you a chance to enjoy it without all the other people. You'll likely be out and about during the day, so staying overnight here gives you a chance to feel more like a local. But if you don't want to stay in this little "hub" you can stay in the surrounding area, but be sure to visit Doolin while you are nearby.
In order to save some time coming from Dingle, I recommend taking the ferry from Tarbert across the Shannon River. Booking your ferry reservations in advance will save you some money but not guarantee you a spot on the ferry. Shannon Ferries has noted that the ferries run on a first come, first served basis, so be sure to arrive early. Taking the ferry is really a lot of fun! Your drive from Dingle to Doolin should take about 3 hours. Again, be sure to stop and see anything that you find intriguing along the way. This is all about the journey.
Once you get to Doolin (assuming you decide to stay there), settle into your lodging and then explore the great outdoors. In order to miss some of the crowds at the Cliffs of Moher, I recommend a beautiful hike from Doolin to the Cliffs. It is possible to hike one way and take public transportation back to Doolin. You could also arrange for a taxi to pick you up at the end of your hike if you want, or take a picnic with you, take your time, and hike both ways.
The hike is about 4 miles and takes about 2 hours each way. If you would like to go with a guide, I recommend Pat Sweeney, for a really unique and wonderful experience. The walk fee is only €10 per person. His tour starts at 10:00 in front of O'Connor's Pub in Doolin. His hike takes 3 hours or so, one way, as he explains things as you go.
Finding good Craic in Doolin
Once you are back in Doolin, you really must go to Gus O'Connor's Pub. Once you visit here, you may never want to leave. They have good food, good craic, and traditional Irish music sessions 7 nights a week. This is Ireland.
What is "craic" you say? If you are unfamiliar with this term, you will get to know it soon enough as you explore Ireland. You won't find this word in Webster's, but Wikipedia says "Craic or crack is a term for news, gossip, fun, entertainment, and enjoyable conversation, particularly prominent in Ireland."
That is such a bland definition for such a lively term. When I took university students on study abroad trips to Ireland, they would often hear locals talk about a pub saying "There's good crack in there". The students were shocked! Of course they thought the Irishman was talking about cocaine — but what he or she really meant was good lively talk and great fun. It was fantastic introducing them to this particularly Irish expression. You'll experience it all over Ireland, but there's great craic in Gus O'Connor's Pub in Doolin.
Visit the Aran Islands
Spend a day on one of the Aran Islands. It is an experience you don't want to miss. I recommend that you go to Inis Mor, the largest of the Aran Islands. You can get there by ferry from Doolin Pier with Doolin Ferry Company. Departure is at 10:00. Return ferry is at 4:00. Make sure to return to the pier before 4:00 to catch your ferry. If you miss it, you'll be waiting until the next day to go back to the mainland.
Once you arrive on Inis Mor, you can rent a bike as soon as you get off the ferry. Aran Bike Hire does a terrific job. You can ask them all kinds of questions and they will tell you where to go and what to do while you are on the island. I like heading toward Dun Aengus Fort. The cliffs there are unbelievable – maybe even more spectacular than the Cliffs of Moher, without fences, barriers, or busses. You can also check out the Worm Hole if you have time. Ask about a map from Aran Bike Hire.
If you find that you are tired of biking or running out of time as you return to the pier, you can catch a bus to get back faster. Ask about this too when you rent your bike. I recommend asking about it even if you don't think you need it. You may spend more time than you think exploring the island. It's possible that getting back to meet your ferry could require taking the bus. You may get to chat with some locals in the process!
Poignant Stories in Ireland
When you take the time to talk with local people, you will often hear stories you didn't expect. Beautiful hand knit Irish sweaters are incredible. You will see them everywhere, especially on the west coast. I learned that these sweaters actually have an interesting and sad history. They were originally knit for fishermen, going out to sea to catch food for their families and to sell. Each family had a different pattern knit into the sweater so that if their men died at sea, they would be able to identify them when they washed to shore. These are the kinds of things I want to understand as I travel. It makes my sweater both beautiful and meaningful.
Spend 2-3 nights in Doolin (or the area), exploring the area, visiting the Cliffs of Moher and the Aran Islands.
Driving from Doolin to Galway
On your drive between Doolin and Galway, I highly recommend visiting Moran's Oyster House. Plan to be hungry when you head this direction. This is a very special place. If you don't have time on your way in to Galway, you could come for dinner one night as it is only about a 20-25 minute drive.
We rarely go to the same restaurant twice because we want to try lots of different places. That said, we have been to Moran's Oyster House many times and we keep going back. Their smoked salmon is like velvet in your mouth. Literally – like velvet. The restaurant is in a thatched cottage that is everything you think of when you think of Ireland. The oysters are out of the bay right in front of you. This is an exceptional place.
You could also drive through The Burren on your way to Galway. If you would like to really experience the Burren, I recommend hiking through the area. Heart of Burren Walks does a great job and they have a tailor made walk that is about 2 ½ hours.
Alternatively, it might be fun for you to travel along the flaggy shore and enjoy an oyster tour and tasting.
If you choose to drive through The Burren on your way to Galway, you could travel through Kilfenora and Carran stopping at Poll na Bron (a megalith) and maybe Caherconnell Fort. Then go on to Galway.
Galway
I also recommend that you spend 2-3 nights in Galway. I say 2-3 nights in each place so that you can choose how you want to spend your 7 days, and it offers you some flexibility. This is your trip after all! If you have the time, you might even want to extend your trip!
There is so much to see and do in Galway. The New York Times wrote a great article sharing what to do in 36 hours. That's just about the right amount of time on this itinerary as you will also want to day trip to Connemara. You may also enjoy our 10 Reasons to Visit Galway post for more details on this great Irish city.
You can take a full day and visit Connemara, traveling through Moycullen, Oughterard, Maam, and Leenane. From here, if you are interested, you could visit visit shell fish farmers Kate and Simon Kennedy or go to Killary Sheep Farm and see a sheep dog demonstration. You will also want to visit Kylemore Abbey, Connemara National Park and the gorgeous town of Clifden. There is just so much to do and so little time! Choose carefully so that you don't feel rushed through this spectacular scenery!
When is the best time to travel to Ireland?
In my mind, there isn't a bad time to visit the Emerald Isle. That said, it can be a rather rainy and dreary country in the winter months. Expect rain and be prepared for it at any time of year.
You might want to be in Ireland for St. Patrick's Day. It's a special time to be there with shamrocks worn on everyone's lapels as they watch a local parade to celebrate the day. Or, you might want to avoid the island at that time of year. Dublin is especially crazy on St. Patrick's Day. It just depends on what you want to see and do!
I recommend going in May/June or September/October if you are able. That way, you can beat some of the crowds and the weather tends to be nicer. But really, go whenever you can – just go!
10 Days in Ireland Itinerary
This post is about western Ireland, but you might want to add on 3 or more days so you can see Dublin and the surrounding area. You might like to check out our Dublin Blog post, or you can check out our 10 Day Itinerary in Ireland for more ideas. You also haven't considered kissing the Blarney Stone on this Western Ireland Itinerary. If that's important to you, you'll need to add more days to your journey.
In order to make the most out of your 7 days in western Ireland, you may want to fly into Shannon. If your flights are in and out of Dublin, you will want to add days to your vacation as it's about a 4- hour drive across the country. And be aware – driving in Ireland always seems to take longer than you think it will. Sometimes you have to wait for sheep to cross the road!
Prepare for your trip to Ireland
Learn as much about Ireland as you can before you go. Watch movies about this remarkable country. Read some good books by Irish authors or about Ireland. I like Angela's Ashes. It's sad, but gripping.
What are your favorite movies about Ireland? The Quiet Man? Michael Collins? There are lots to choose from. Ireland's difficult history has helped produce incredible writers and artists. You will be enriched by learning more about them.
I also encourage you to seek out opportunities to learn about the 1845-1849 potato famine (when ⅓ of the population died, ⅓ of the population left the country – many to go to the US, and ⅓ of the population stayed), and Ireland's rocky history with England. Investigate the Troubles in Northern Ireland, and rejoice that there is a much better relationship between these two parts of the island now.
Before I leave you, please let me share my very favorite Irish joke. I try to get my friend to tell it to me every St. Patrick's Day. You have to say it with an Irish accent, and it helps to have enjoyed some Guinness or Irish Whisky with friends before sharing:
What's Irish and stays out all night?
Patty O'Furniture!
Enjoy Ireland! It is grand!
Would you like to visit the amazing Emerald Isle? We can help with that! Remember that we are always available to you and your friends and family for custom trip planning to Italy, France, Ireland, the UK and all of Europe. We are experts in creating custom travel itineraries and leading small group trips to European destinations. Feel free to reach out via email — We're always available to talk about travel!
Betsy Ball – Betsy is co-founder and partner of Euro Travel Coach (ETC), which crafts custom European vacations for independent travelers and leads small group trips to Europe. She is a passionate and culturally curious traveler who thoroughly enjoys sharing her love for exploring Europe with ETC clients. Prior to founding ETC, Betsy taught International Business at Tarleton State University in Texas (part of the A & M System) where she led study abroad trips to multiple European countries and other worldwide destinations. She retired from teaching in 2017 and since then, she and her husband, Co-founder and Partner, Greg, have been traveling through Europe multiple times per year for as many as 9 months at a time. She has a degree in hotel, restaurant management from Michigan State University and an MBA from Southern Methodist University in Dallas. She also holds a Level 3 certification from the Wine & Spirits Education Trust.
Love this post? Pin it so you can come back to it later.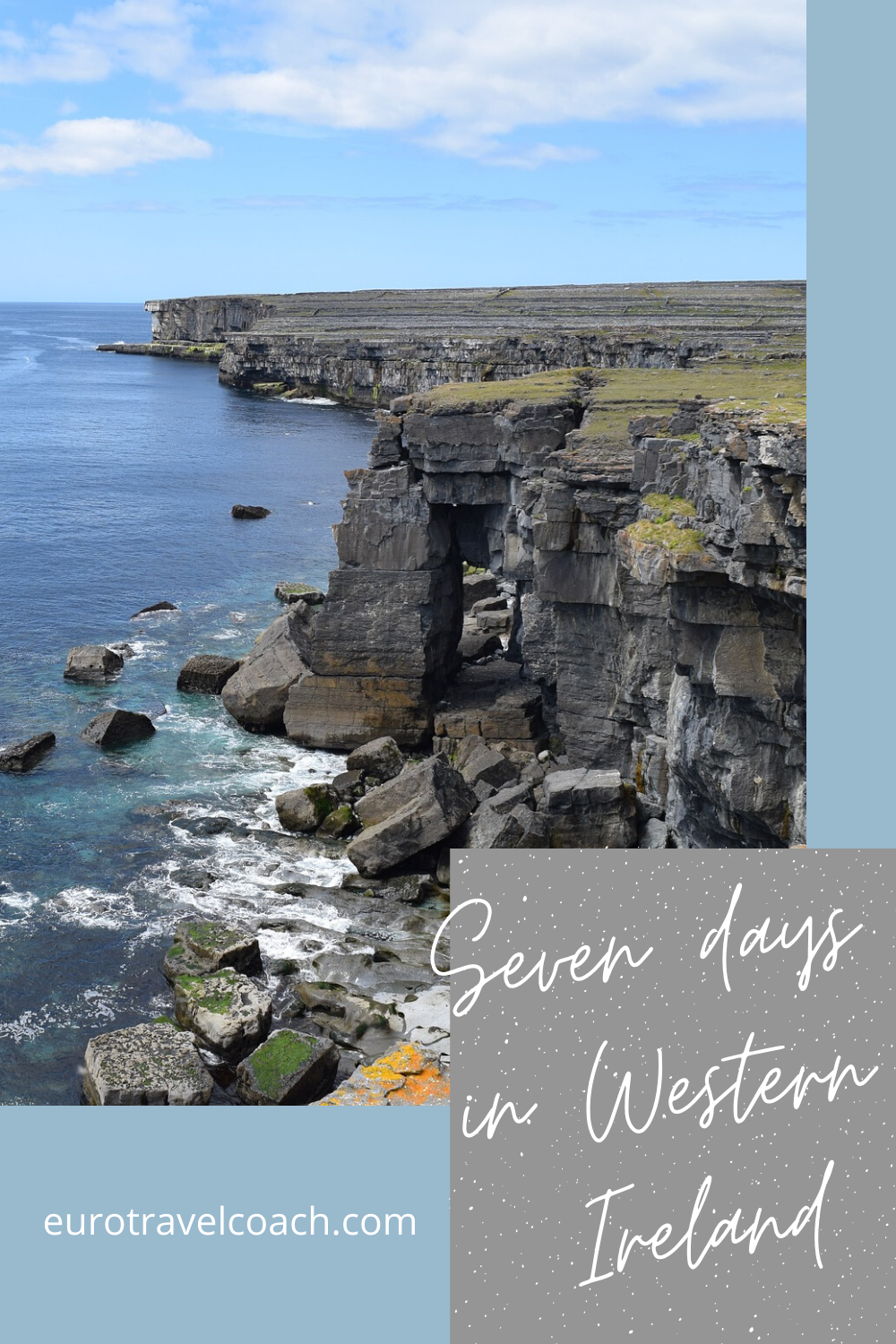 For the full story click here!